Therapy Rooms in Cheshire - Room Hire in Congleton
Below are details of the rooms we have available To Let within Congleton Complementary & Alternative Medical Centre. If you practice an Complementary & Alternative therapy or any other therapy, we have rooms available for short and long term leases.
Available Therapy Rooms in Congleton Therapy Centre, Cheshire
AD-HOC THERAPY ROOMS TO RENT
HOURLY, MORNING, AFTERNOON OR EVENING SLOTS AVAILABLE
Suite 6 (available to book on an ad-hoc basis) Click here for more details

£30 / All Day
£20 / Morning (6am-1pm)
£20 / Afternoon (1pm-6pm)
£20 / Evening (6pm-12pm)
or
£10 / 90 mins
Contact Darren on 01244 940811 for more details or you can email us.


THERAPY ROOMS TO HIRE ON A MONTHLY BASIS
We also have rooms to rent on a permanent basis, available with short term or long term leases. To find out availability contact Darren on 01244 940811 or you can email us.
Suite 2 (available in May 2013) Click here for more details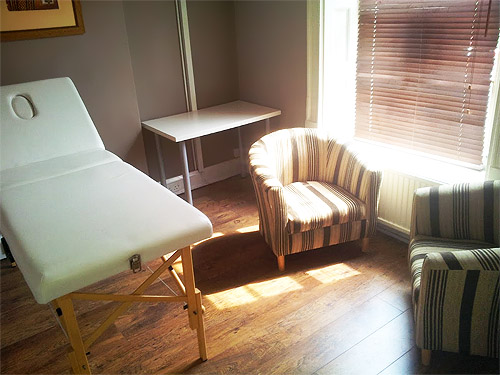 Available at £63 / week. (all inclusive of bills)
Do you offer therapy courses / sessions? You can now hire our training room in Cheshire
Suitable for workshops
Suitable for talking therapies
Suitable for therapy training courses
Client waiting area
Nearby parking (2 min walk)
Toilet facilities
Heating
Tea/Coffee facilities included
Music facilities
£30 / Full day room rental.
Please Contact Darren on 01244 940811 or email info@congletontherapy.com for more details or to book a viewing.