Hopi Ear Candling
What is Hopi Ear Candling?
Thermal Auricular Therapy (also known as Hopi Ear Candles) is a pleasant and non-invasive treatment of the ears, used to treat a variety of conditions. Its name is taken from the Hopi Indians of North Arizona, USA and means 'peaceful people'.
The process of Hopi candling involves a specially designed hollow candle being inserted just inside the ear canal. The candle is then lit and the suction that is formed draws the impurities from within the ear. This process is known as the chimney effect. The rising air gives the ear drum a gentle massage and also helps to regulate ear pressure. A small amount of ear wax is also removed during the treatment.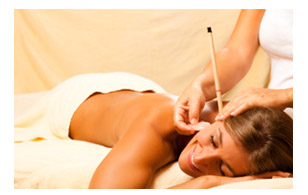 The ear candles induce a revitalising heat upon the head and ears, which soothes, relieves and relaxes.
Hopi Ear Candles can help with:
Tinitus, compacted ear wax and glue ear
Sore throats and hay fever
Headache and migraine
Rhinitis and sinusitis and 
Catarrh and asthma
Stimulation of blood and energy flow
Regulation of pressure in ears and head
Relaxation in conditions of anxiety and stress
Stimulation of lymphatic system and metabolism
During a treatment, an initial consultation is given to ensure the treatment is right for the patient.  They are then asked to lie on their side on a therapy bed where the practitioner gently inserts a candle in the first ear and then the other.  The treatment is then finished with a lovely ear and facial massage.
Therapists Offering Hopi Ear Candling in Congleton Complementary & Alternative Medical Centre
We are currently looking for therapists offering Hopi Ear Candling to join Congleton Complementary & Alternative Medical Centre.

For more information on how you can hire a room click here
Located in Congleton Cheshire, the centre is easily accessible from the following nearby towns and villages; Alderley Edge, Bramhall, Biddulph, Congleton, Crewe, Hazel Grove, Holmes Chapel, Knutsford, Leek, Macclesfield, Middlewich, Nantwich, Northwich, Poynton, Prestbury, Sandbach, Stoke-on-Trent, Wilmslow, Winsford.
| Cheshire Ear Candling | Ear Candling Cheshire | Congleton Ear Candling | Ear Candling Congleton |